Compact and reliable are two traits that don't always go hand-in-hand when it comes to folding treadmills. That's why our list of the best foldable treadmills currently available contains durable models designed with innovative folding features and reliable, sturdy frames. They're ideal for in-home use where space is a concern, but just because they're easily foldable and compact doesn't mean they cut corners on reliability or stability.
Learn more about how to choose the right folding treadmill for you with our expert advice and handy list of the best folding treadmills on the market below.
TOP BY CATEGORY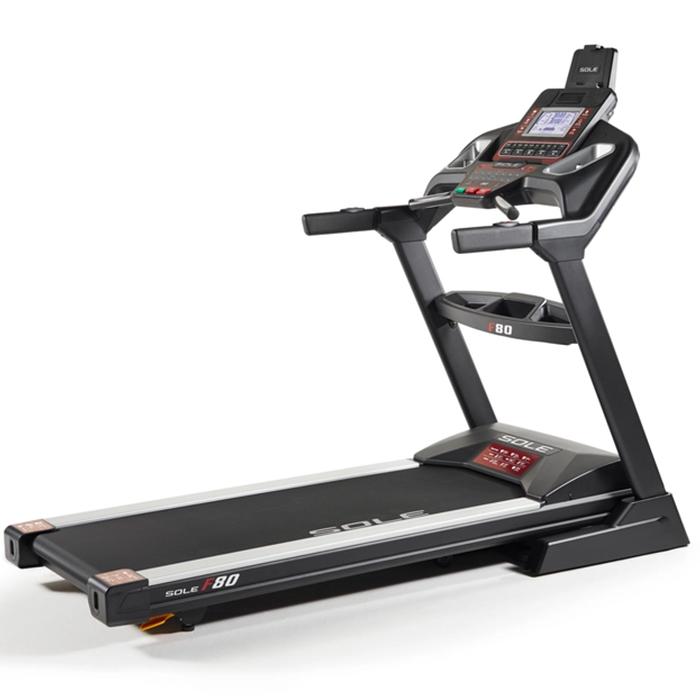 Treadmill users are certainly familiar with the Sole family of machines, and there's little surprise that our pick for Best Overall Folding Treadmill is the Sole F80. A great mid-range option between the F63 and F85, its high-quality components are designed for durability. And more importantly, it folds easily for convenient space-saving. The foldable treadmill design of the F80 actually originated from the demand of hotels for a treadmill as mobile as a service cart, yet still stable and effective. Thus, the Folding Deck Design – Easy Assist was born. With a patented all-gear rack and pin system, complete with a safety lock which secures the unit in place when upright, the F80 allows users to simply release the deck, step back, and watch it effortless unfold itself. Other great features include a roomy 22-inch x 60-inch running deck, a 3.5 HP motor which supports both running and walking, as well as a power incline up to 15%. A 9-inch LCD display brings 10 preset programs to the action, along with the included Sole Fitness App which allows users to sync up with FitBit, Record, Apple Health. In addition to the screen, the unit has a built-in tablet holder and Bluetooth connectivity. All in all, quite a bit for a folding treadmill.
Pros
Cons

3.5 HP Motor
Sole Fitness App
9″ LCD Display
KEY SPECS
| | |
| --- | --- |
| Motor | 3.5 CHP Motor |
| Incline | 0 — 15% |
| Running Area | 22″ x 60″ |
| Folding | Yes |
| Top Speed | 12 MPH |
| Weight Capacity | 375 LBS |
| Dimensions | 82″ L x 37″ W x 57″ H |
| Screen | 9″ Smart LCD Touchscreen |
| Warranty | Lifetime frame/motor/deck, 5-year electronics/parts, 2 years on labor. |
2. Best Budget Pick – Horizon 7.0 AT
It's the more pocketbook friendly brother of the top-rated 7.8 AT, and after its last refresh it wasn't all that difficult for the Horizon 7.0 AT to take position as our favorite budget buy. Its console is basic, as it's designed for users who want to run training apps on their iPad or tablet, just as much as for those who just want to throw on some music and get running. Like its bigger brother, its incline and drive motors adjust faster than much of its competition, making it a great option for those who love HIIT sprints.
The treadmill has a steel frame, which gives it a strong foundation—sturdy and durable enough to handle more intense runs. Its 3.0 CHP motor is quite powerful, not to mention steady and quiet, and comes with a lifetime warranty. The 60″ running deck is a bit longer than the standard 55″, making it a good choice for taller runners and those with a longer stride. It is offered with a lifetime warranty on its frame, 3 years on its motor, parts, and electronics, and 1 year on labor.
Pro
Cons

Great price
Roller-style speed and incline adjusters are very user-friendly

Limited warranty
Basic screen/console
KEY SPECS
| | |
| --- | --- |
| Motor | 3.0 CHP |
| Incline | 0% – 15% |
| Running Area | 20" x 60" |
| Folding | Yes |
| Top Speed | 12 MPH |
| Weight Capacity | 325 LBS |
| Dimensions | 77.5″ x 36″ x 59″ |
| Screen | Three LED windows and aback-lit LCD screen |
| Warranty | Lifetime frame, 3-year motor/electronics/parts, 1-year labor |
3. Best Value for the Money– Horizon 7.4 AT
Great interactive training on a solid treadmill with a folding feature that allows you to keep your home a home, the 7.4 AT is consistently a top-rated machine. Featuring a patented FeatherLight folding design and transport wheels for easy moving, its frame can still support up to 325 lbs. Like other members of the Horizon family, the 7.4 AT comes equipped with its proprietary HIIT workout, Sprint 8, as well as 10 pre-loaded programs. The treadmill also has the ability to sync with any on-demand workout app such as Peloton, Daily Burn, Aaptiv, or the free AFG Pro Fitness App. Horizon also affords customers a number of discounts on these outside workout apps and subscriptions.  The machine itself features a large 60-inch x 22-inch track, Bluetooth heart-rate monitoring, and a variable-rate cushioning program all in a 76-inch long by 37-inch wide by 63-inch high frame.
Pros
Cons

Roomy Track
Workout variety
Built-in Sprint 8 training program
KEY SPECS
| | |
| --- | --- |
| Motor | 3.5 CHP |
| Incline | 0 — 15% |
| Running Area | 22″ x 60″ |
| Folding | Yes |
| Top Speed | 12 MPH |
| Weight Capacity | 325 LBS |
| Dimensions | 76″ x 37″ x 63″ |
| Screen | 16 Digit Alphanumeric LED & 8.25″ LCD Screen |
| Warranty | Lifetime frame, 5-year motor, 2-year labor |
4. Best Folding Treadmill with Premium Features – NordicTrack Commercial 1750
Yet more proof that a foldable treadmill doesn't mean skimpy on the options, the NordicTrack Commercial 1750 brings a dynamic set of workout options to your home. Yet, even with all the bells and whistles aboard, the strapping 78-inch L x 39.2-inch W x 63-inch H treadmill folds up easily in under 10 seconds by way of the patented EasyLift Assit mechanism. Operating off a 3.75 CHP motor, the unit features both a 15% incline as well as a 3% decline to help heighten intensity. The belt itself is 60-inches x 22-inches, quite roomy considering the unit can be folded up and stored in a closet when not in use. But real NordicTrack fans know the brand comes part-and-parcel with the iFit universe of interactive training. Like it's sibling units, the 1750 has a 10-inch HD touchscreen the iFit Coaching system, the iFit Google Maps feature, in addition to 50 other built-in programs. Live trainers from remote locations can take over the treadmill to help you adjust to workouts as varied as your imagination and fitness goals. Meanwhile, the 1750 is also equipped with an integrated tablet holder, Bluetooth capabilities, and two 3-inch digitally amplified wireless speakers. Heart rate monitoring can be performed by way of the integrated sensors in the handlebars, or the Bluetooth unit, which requires a separately sold chest strap.
Pros
Cons

10-inch HD touchscreen
iFit Coaching
Incline/Decline Option

Large unit might require
assistance with assembly
KEY SPECS
| | |
| --- | --- |
| Motor | 3.75 CHP |
| Incline | -3% — 15% |
| Running Area | 22″ x 60″ |
| Folding | Yes |
| Top Speed | 12 MPH |
| Weight Capacity | 300 LBS |
| Dimensions | 78.8″ L x 39.2″ W x 63″ H |
| Screen | 10" HD touch screen |
| Warranty | 10-year frame, 2-year parts, 1-year labor |
5. Smallest When Folded Treadmill – Proform Carbon T7
If workout space is at a premium, then the Proform Carbon T7 might be the pick for you. Definitely designed with walkers and joggers in mind, the 74.62-inch L x 35.24-inch W x 64.39-inch L treadmill comes with a 55-inch x 20-inch runway, meaning it folds into one of the most easily stored units around. And thanks to ProForm financing specials, customers can actually get the treadmill for free when purchasing a 3-year iFit membership package. With a maximum incline of 12% and speed of 12mph, the unit is powered by a 2.75 CHP motor, the T7 features a 7-inch Smart HD Touchscreen, and a set of 2-inch speakers and audio auxiliary port. For those unfamiliar with the iFit program, members have at their screen a dynamic workout community with, real-time trainers in remote locations who can control the speed and incline of the machine.
With nearly unlimited workout options, the user can access maps and routines of their own choosing, or simply follow along. Meanwhile, workout data and personal health information is dynamically stored into the program for later usage and incorporation into your plans. Heart rate data is collected by way of EKG Grip Pulse Heart Rate Sensors and also stored for later use. The machine comes with a warranty covering 10 years on the frame, two years for parts, and one year for labor.
Pros
Cons

iFit package
Smaller unit
Easy Folding

Lower warranty offering
No built-in programs
KEY SPECS
| | |
| --- | --- |
| Motor | 2.75 CHP |
| Incline | 0 — 12% |
| Running Area | 20″ X 55″ |
| Folding | Yes |
| Top Speed | 12 MPH |
| Weight Capacity | 300 LBS |
| Dimensions | 74.62″ L x 35.24″ W x 64.39″ H |
| Screen | 7″ HD Screen |
| Warranty | 10-year frame; 2-year parts, 1-year labor |
Want to compare these models to see which one is best for you? Try our comparison tool. To use it, just check off any treadmill you want to look at in more detail and then click 'compare'. Learn more about what to look for when shopping for a new home treadmill below.
WHAT TO LOOK FOR WHEN SHOPPING FOR A NEW FOLDING TREADMILL
WILL YOU WALK OR RUN ON YOUR TREADMILL?
One of the first questions you should ask yourself when searching for a treadmill is whether you plan to use it for walking or running. If you're a hard-core runner, look for a 3.0 CHP motor at minimum, otherwise the a future of maintenance might be yours. Machines with higher motor power typically usually require less maintenance, and also afford faster paces. If you're primarily interested in walking, then the motor speed simply isn't as crucial. Keep in mind that running on a treadmill designed primarily for walking will wear it out quickly.
WHAT'S A GOOD TREADMILL SIZE FOR YOUR HOME?
If you're shopping for a foldable treadmill, the size definitely matters to you. You'll typically find that home treadmills are designed with space-saving features in mind and are much more compact than those found in big gyms. A standard home-treadmill footprint is around six feet long and three feet wide. If this isn't going to work day and night, then definitely consider a foldable treadmill, as high-quality models are available. 
WHICH TREADMILL EXTRAS MATTER TO YOU?
Special features on this year's best home treadmills range from built-in workout programs to touch screens to tablet holders. You can find all of these features and more on the treadmills described above, and these are only machines in the moderate price range! Shoppers who are ready to shell out for even more luxury features can get treadmills with extra-large touch screens and other classy amenities.