ProForm treadmills are produced by the world-leading, Utah-based gym equipment manufacturer ICON Health and Fitness. When comparing ProForm treadmills it's impossible to ignore the huge differences in price, performance, and durability. So what do they all have in common? Features. All ProForm treadmills are feature-rich compared to most alternatives in their class. The biggest competition comes from NordicTrack, which is also owned by ICON and uses many of the same treadmill components. ProForm treadmills for 2020 have a range of different features, from HD touch screens to Bluetooth speakers, as well as iFit Coach readiness and other amenities to help keep you motivated.
Below are overviews of the main ProForm treadmill series currently on the market. Retail prices range from $999 to $2,999, but you can often find the models online with up to 50% off.
First up is the Pro Series, which ProForm describes as their 'industry-leading interactive fitness' models. In the middle ground we have the Power Series, priced and equipped to meet the typical fitness shopper's needs. Finally there is the Performance Series which offers the cheapest treadmills in ProForm's roster. 
Looking for a desk treadmill? ProForm currently offers the Thinline and Thinline Pro models. Unlike the average desk treadmill, these models can support intense exercise when work time is through, with their spacious tracks, automated incline/decline, many workout apps, and iFit readiness.
Check out our ProForm Comparison Chart: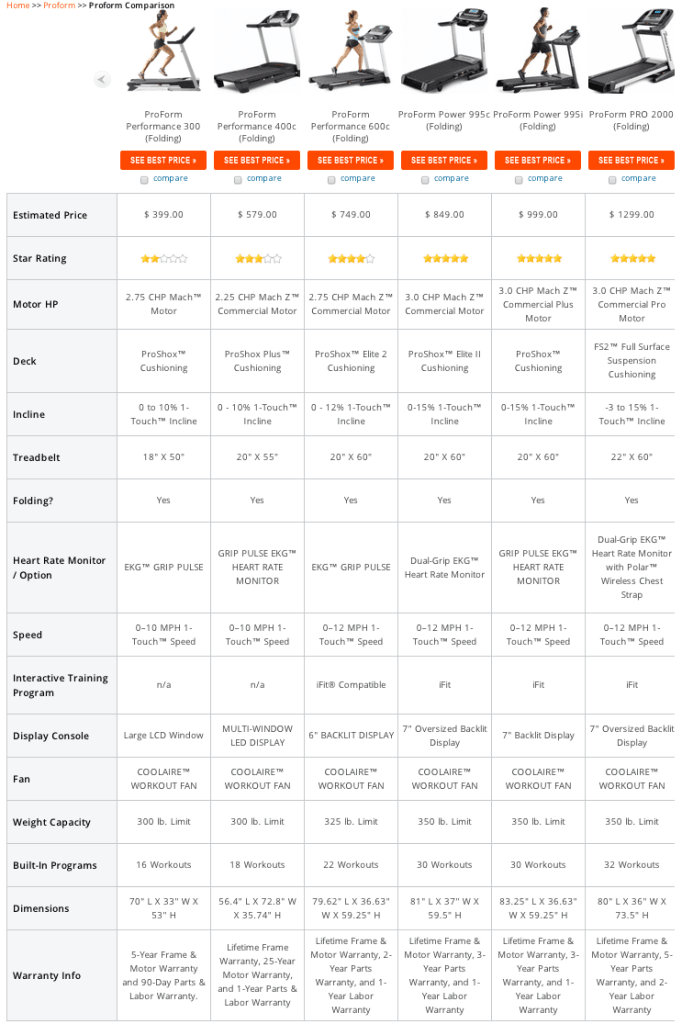 Pro Series
The ProForm Pro Series features the brand's top treadmill tech. The three treadmills in this lineup for 2020 are suitable for runners as well as walkers. Motor capacity ranges from 3.5 CHP on the SMART Pro 2000 to 4.0 CHP on the 9000 model. Each Pro Series unit has a 60-inch x 22-inch track, which is especially spacious, and a power incline/decline from -3 to 15%.
All models have a smart HD touch screen which ranges in size across the series: 7-inch for the SMART Pro 2000 and 10″ for both the SMART Pro 5000 and SMART Pro 9000.
Power Series
Although the ProForm Power Series is technically a step down from the Pro Series, we're still big fans of the treadmills' price–performance ratio. Both Power Series machines have 20-inch x 60-inch tracks and 0–12% automated inclines. The 995i model has a 3.0 CHP motor which is ideal for walking and light jogging, and the 1295i model offers a slightly higher powered 3.5 CHP motor.
Besides the extra horsepower, users of the 1295i also benefit from a 7-inch high-contrast display (compared to the 995i's 6″ display) and 4 additional on-board workouts. The 1295i can also accommodate 50 lb. more in weight than the 995i (350 lb. as opposed to 300 lb.).
Performance Series
ProForm's cheapest treadmills are found in their Performance Series. Three Performance models are currently available: the 400i, 600i and 800i. All models have built-in smart HD touch screens which vary in size via the model, starting at 7-inch for the 400i, increasing to 10″ for the 600i, and 14-inch for the 800i.
Each model in the ProForm Performance Series has a different horsepower and belt length, which are two features of a treadmill that can alter its purpose significantly. With an 18-inch x 50-inch tread belt and CHP of 2.0, the SMART Performance 400i is an affordable option designed for walking. The 600i has a longer belt (18-inch x 55-inch) as well as a bit more power with 2.5 CHP, so it's a little bit better suited to jogging than the 400i. Both models have high speeds of 0–10 mph, although the belts will both wear out rather quickly if you often train intensely. To boost calorie burn, these trainers have maximum 10% inclines respectively.
The 800i benefits from a 2.75 CHP and an even longer 18-inch x 60-inch belt, making it the most suitable model for jogging across the Performance Series. That said, as with the 400i and 600i models the belt is not ideal for the more serious runner who plans to train more intensely. The 800i builds on the other models' incline feature by also offering a -2 powered decline on top of the 10% incline.
Regarding the warranties, all models are on par, offering 10 years on the frame, 2 years on the parts, and 1 year on labor.
What We Like:
Reasonable Price Range:

Every customer has a different price point, so it's important to have machines for every budget. ProForm doesn't disappoint in this regard. Their factory-direct sale price for treadmills ranges from $999 to $2,999.

Programming Options:

There's a range of built-in workout programs in all these ProForm treadmills, making it easy to mix up your workout routine and stay motivated to keep exercising. This is great news for both new exercisers who don't know where to start, and for seasoned walkers or joggers looking to recharge their fitness routine. Each treadmill is also compatible with iFit Coach, a subscription service that syncs your machine with virtual outdoor training via Google Maps and HD workouts hosted by celebrity personal trainers in fitness studios around the world.

Motors:

The motor can make or break a treadmill as it dictates how smoothly it'll run. The good news? ProForm provides great motors throughout its catalog at every price point. The Performance Series motors are at the lower end of the spectrum, but from there you can go all the way up to a 4.0 CHP drive with the Pro 9000. 

Incline Features:

All ProForm treadmills can automatically incline or decline, giving you plenty of workout programming options.

Cushioning:

Your joints will appreciate ProForm's top-of-the-line cushioning system. With up to 28% less impact on the lower body, you'll be able to train pain-free for the foreseeable future.

Compact Design:

Most of ProForm's treadmills are foldable and can be easily tucked away when not in use.

Audio

: All the treadmills in the Performance Series have an a

udio auxiliary port with dual 2″ speakers

. This is upgraded in the Power Series as the speakers are also Bluetooth enabled. The size is bumped up to 3 inches in the Pro Series which provides better sound quality and volume (minus the 9000 model which just features an AUX).

Warranties: This brand's treadmill warranty includes up to 10 years of coverage on the frame, 2 years on parts, and 1 year on labor depending on the machine.
What We Don't Like:
Customer Service:

From reading a number of reviews online, customer service appears to be a major weak point with this company. This is definitely something to keep in mind if you're a first-time owner who will need help maintaining your machine or have a lot of questions you want to ask before and after your purchase.
Our Verdict:
ProForm has an inclusive range of treadmills on its roster to suit every budget and type of exerciser. Their wide variety of prices make them affordable for just about everyone and there is a sharp increase in quality as the prices increase. This is evidence of a brand that understands its different users' needs and tailors its products to these accordingly. At all the different price points, you can count on ProForm to deliver top-notch quality and a smooth ride. Many people have already experienced excellent fitness results using ProForm treadmills. Overall, they are certainly worth the investment. It's worth noting that ProForm and NordicTrack treadmills are quite similar, so consider comparing machines from both brands to see which one best suits your personal needs before diving into a purchase.