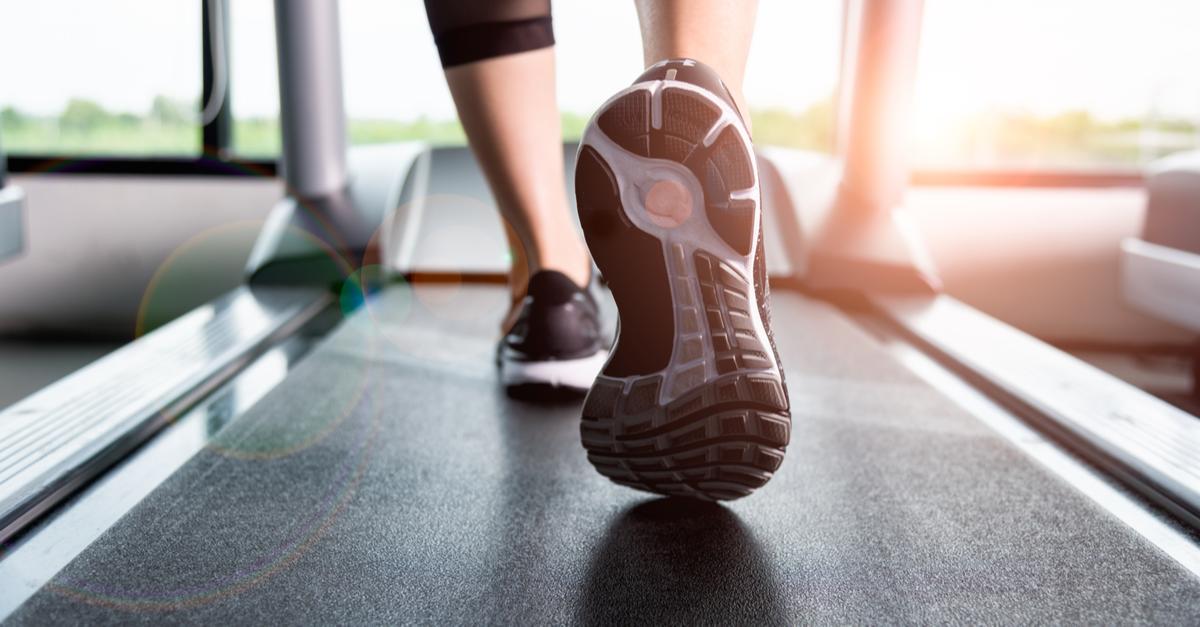 Looking for an affordable treadmill that's built to last? They exist. Obviously they aren't the best machines on the market, but they do suit the needs of shoppers on a budget. We've done all the research for you and rounded up this year's best cheap treadmills, taking into consideration key factors such as performance, durability, and special features. You won't find any 5-star treadmills at this price, but you can expect handy space-saving technology, easy at-home assembly, and impressive built-in workout programs from many of the models in this price bracket. If you're looking for a specific type of cheap treadmill–such as the best model with iFit or the best compact model–we've picked out the top machine in that category to help further streamline your search.
Top Cheap Treadmills By Category
Discover the best cheap treadmills on the market below. Want to get to grips with the basics of how to find the best cheap treadmill before you start your search? Scroll down to learn more about what to look for when shopping for a cheap treadmill.
1. Best Cheap Treadmill Overall – Horizon T101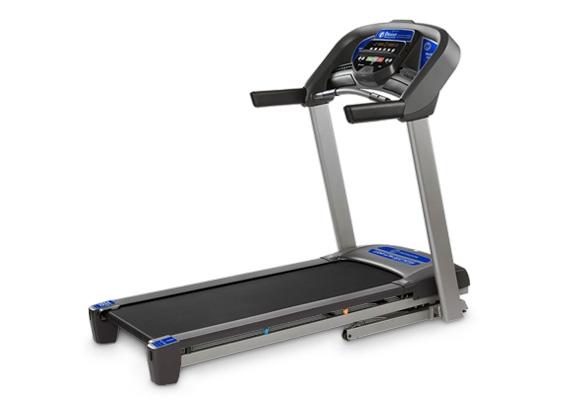 If you're looking for a durable, versatile treadmill that won't hurt your wallet, check out the Horizon T101. At just $599, the Horizon T101 is our top budget-friendly treadmill on the market today. Even at this price it has a respectable warranty—offering lifetime coverage on the frame and motor as well as a year on parts and labor—this demonstrating the brand's confidence in the durability of its cheapest model. What's more, it will suit most home gym spaces. Its compact, easily foldable design with transport wheels means you can pack the machine out of sight after use.
The Horizon T101's 2.5 CHP motor and 20″ x 55″ track make it a good match for walkers and gentle joggers. Other key features include: a 10% incline; 9 onboard workout programming options; and 3-Zone Variable Response Cushioning to reduce the impact of your routines. Entertainment features include Bluetooth speakers, a cooling fan, a tablet holder, and a USB charging port. We can safely say that it's the best cheap model on the market in terms of quality, features and value for cost-conscious shoppers who prefer light to moderate workouts. See our detailed review of the Horizon T101.
Pros
Cons

Low Price
Impressive Warranty
Easy Folding & Storage

Short Track
Weak Motor
Pretty Average Cushioning
Key Specs
| | |
| --- | --- |
| Motor | 2.6 CHP |
| Incline | 0 — 10% |
| Running Area | 20″ x 55″ |
| Folding | Yes |
| Top Speed | 10 MPH |
| Weight Capacity | 300 LBS |
| Dimensions | 70″ L x 34″ W x 55″ H |
| Screen | 3 LED Windows |
| Warranty | Lifetime Frame & Motor; 1-Year Parts & Labor |
2. Best Cheap Treadmill with iFit – NordicTrack T 6.5 S
If interactive training is a top priority for you, then you've probably come across NordicTrack and ProForm treadmills featuring iFit. iFit is an innovative interactive training platform which you can use alongside your iFit-enabled treadmill for an immersive workout experience; it's much like having a personal trainer in your living room. If you're looking for a cheap treadmill that supports such training, you should check out the NordicTrack T 6.5 S. This model is the entry point to iFit training, delivering live and streaming workouts via a 10-inch HD touchscreen. Priced very affordably, the machine even includes a 1-year family subscription to the service.
iFit allows you to access a huge library of on-demand (and now live) workouts with expert personal trainers both on and off your machine (subscription required). Map out your own Google Maps running trail, stroll through an exotic location across the world, or hop off the machine for a yoga flow. The incline and speed will change automatically in line with the trainer or landscape you are exploring, allowing for a truly immersive workout experience. It has a 2.6 CHP motor, so it's better suited to walkers than runners. Other highlights of the NordicTrack T 6.5 S include: iFit connectivity for workout variety; 10% incline; easy to fold and store; and an aux music port for you to listen to tunes through the built-in speakers. Overall, it's a top treadmill in its price bracket for interactive training with iFit. See our detailed review of the NordicTrack T 6.5 S.
Pros
Cons

Workout Variety
Incline
Easy Folding & Storage

Short Track
Average Warranty
New and Improved models from NordicTrack
Key Specs
| | |
| --- | --- |
| Motor | 2.6 CHP |
| Incline | 0 — 10% |
| Running Area | 20″ x 55″ |
| Folding | Yes |
| Top Speed | 10 MPH |
| Weight Capacity | 300 LBS |
| Dimensions | 73.5″ L x 35.5″ W x 60.4″ H |
| Screen | 10-inch HD Touchscreen |
| Warranty | 10-year frame warranty; 2-year parts warranty; 1-year labor warranty. |
3. Best Compact Treadmill – ProForm 505 CST
Check Price
These days there are many high-quality compact treadmills that can just about compete with their larger counterparts. Compact design meets affordability in the ProForm 505 CST. At just $999, the ProForm 505 CST is an affordable entry-level treadmill designed for durability and convenience. You can easily fold it and stow it away after your workouts.
Although compact, the ProForm 505 CST is still packed with an impressive range of features. Highlights include: ProShox cushioning to reduce the impacts of your workouts; a 10% incline grade; 18 built-in programs; and iFit-readiness. Although it doesn't feature a flashy touchscreen for iFit training, you can connect your own tablet to enjoy iFit workouts. iFit workouts will still automatically adjust the incline of your machine when you connect your own device.
Due to its 2.5 CHP motor, it's best suited to walkers rather than runners or marathon trainers. And as with any cheap, space-saving treadmill, there are a few things to keep in mind before purchasing. The ProForm 505 CST has a compact 20″ by 55″ track and small 1.9″ balanced non-flex rollers; these features may affect the overall quality of your workout. Yet if saving space and cash is your top priority, the compact and easily foldable 505 CST is a great option. See our detailed review of the ProForm 505 CST.
Pros
Cons

Price
iFit Ready
Easy Folding & Storage

Short Track
Small Rollers
Weak motor
Key Specs
| | |
| --- | --- |
| Motor | 2.5 CHP |
| Incline | 0 — 10% |
| Running Area | 20″ x 55″ |
| Folding | Yes |
| Top Speed | 10 MPH |
| Weight Capacity | 325 LBS |
| Dimensions |  73.5″ L x 36.5″ W x 61″ H |
| Screen | 5″ Backlit Display |
| Warranty | 10-year Frame; 1-Year Parts and Labor |
4. Best Cheap Treadmill with Longer Track – Horizon T202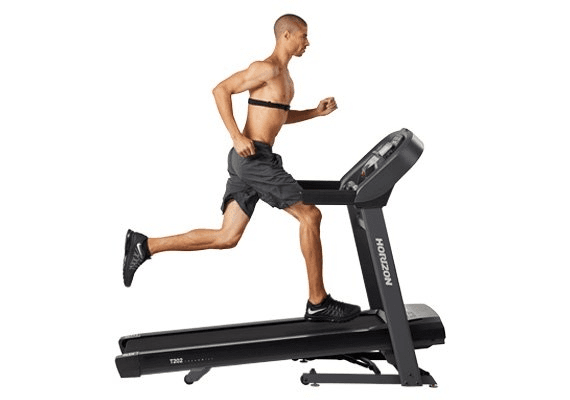 Here we have another entry from Horizon on our best cheap treadmills list. Although you can find treadmills with extra long tracks, getting one with a 20″ by 60″ track at this price is a good deal. All the other treadmills on this list have a sub-60″ track, so if you're a taller individual and want a treadmill that doesn't break the bank, you should check out the Horizon T202. The T202 offers a good combination of features and affordability.
For less than $1,000 ($799 to be exact), you will get a 2.75 CHP motor that supports an automated 12% incline, 9 built-in workout programs, and a fantastic warranty. Even at this affordable price the T202 is covered with a lifetime frame and motor warranty as well as a year of coverage on parts and labor. It also features an audio jack and Bluetooth speakers for the music lover, as well as a fan and tablet holder for you to watch shows in comfort as you work out. The T202 is a good all-purpose budget treadmill that can accommodate taller runners due to its 60″-long belt. It has an impressive range of preset programs and features such as incline and cushioning for the price, as well as a stellar warranty. See our detailed review of the Horizon T202.
Pros
Cons

Long 20″ x 60″ track
Warranty
Easy Folding and Storage
Key Specs
| | |
| --- | --- |
| Motor | 2.75 HP |
| Incline | 0 – 12% |
| Running Area | 20″ x 60″ |
| Folding | Yes |
| Top Speed | 12 MPH |
| Weight Capacity | 325 LBS |
| Dimensions | 75″ x 34″ x 58″ |
| Screen | LED Windows & Backlit LCD Screen |
| Warranty | Lifetime Frame & Motor; 1-Year Parts & Labor |
5. Best Cheap Treadmill for Onboard Programming – Lifespan 1200i
Looking for a well built and budget-friendly treadmill with a good selection of preset workouts? Check out the LifeSpan TR1200i. It comes loaded with workout options so you can keep your workout routine fresh and exciting. The TR1200i's 21 workout programs include: 2 heart-rate, 5 healthy living, 7 sports training, 5 weight loss, and 2 user customizable programs. The machine also has an an easily foldable and compact design for you to stow it away after workouts. What's more, even at the cheap sub-$1,000 price, it still has a solid warranty. It offers lifetime coverage on the frame, 5 years on the motor, 2 years on parts, and 1 year on labor.
The 2.5 CHP motor is best for walking and jogging. Other highlights include: 15 incline levels; two-ply belt with shock absorbers and cushioning which moves along wide rollers; and built-in Bluetooth to sync your workout results. Some customers have had issues with the Lifespan app used to sync their workout stats, saying it is glitchy or doesn't work altogether. Aside from that, we don't have any major qualms with the LifeSpan TR1200i. It's a top-value treadmill for the money (for light to moderate workouts) with a stellar warranty to match, especially when you consider the variety of the onboard programming. See our detailed review of the Lifespan 1200i.
Pros
Cons

Programming
Incline
Cushioning & Belt Quality

No Fan
App has Bad Reviews
Key Specs
| | |
| --- | --- |
| Motor | 2.5 HP |
| Incline | 15 Levels |
| Running Area | 20″ W x 56″ L |
| Folding | Yes |
| Top Speed | 0.5 – 11 MPH |
| Weight Capacity | 200 LBS |
| Dimensions | 70.25″ L x 33″ W x 55″ H |
| Screen | 7" color digital display |
| Warranty | Lifetime frame; 5 years motor; 2 years parts; 1 year labor. |
Want to learn more about what to look for in a cheap treadmill to find the best machine for your home gym space, workout preferences, and budget? Read our guide below.

What to Look for When Buying A Cheap Treadmill
Best Cheap Folding Treadmills
There are treadmills available for $500, but they tend to break down very quickly. The best cheap folding treadmills have sturdy frames, at least 2.5 CHP horsepower and a minimum one-year warranty on parts and labor. Shoppers may not get every feature they want at this price, but they can get a good balance of portability, performance and special features. Ready to compare some models in this category? Take a look at our top folding treadmill picks.
Best Cheap Treadmills for Walkers
Unlike runners, walkers can opt for a cheaper treadmill and still be satisfied with the workout it provides. Here are some tips to help you find a walking treadmill with the best motor power, track length, incline, and console electronics to suit your workout needs:
Motor: Look for a treadmill with 2.5 continuous horsepower (CHP) and preferably a motor that's under lifetime warranty. There's no need to choose a treadmill with greater CHP unless you carry a lot of body weight.
Track Length: Opt for a treadmill with a track length of 55″ instead of paying more for one with a 60″ track. The 60″ tracks are meant to accommodate the long strides of runners. Besides saving money, a 55″ track will also take up less floor space. That said, the more money you spend, the better the track is likely to be in terms of durability and quietness.
Incline: Power inclines with maximum 10% incline settings are typical on the best cheap treadmills for walkers, but you can find some with steeper inclines. To make the most of incline training, all of ICON's treadmills are iFit-enabled regardless of the price point. Every trainee with an iFit membership and a treadmill with incline can virtually experience the rise and fall of real landscapes charted in Google Maps. It's a great way to mix up your walking workouts and stay motivated to keep exercising.
Console: The best cheap treadmills provide accurate readouts about calorie burn and heart rate. Ideally they support wireless heart-rate monitoring, but cheap treadmills usually only have contact pulse sensors. The best cheap machines also have backlit displays so that data can easily be seen at night. Most brands use small monitors on their lowest priced treadmills, but data monitor size and technology increases and improves with price. Cheap treadmills tend to have small LED or LCD monitors. LED monitors are the more advanced option in terms of clarity and are also less expensive to maintain. More advanced treadmills have larger screens and possibly full-color HD touchscreens with video display capability.
Best Cheap Treadmills for Runners
Runners on the lookout for a cheap home treadmill should look at options that are sale priced around $999, with MSRPs of $1,499 or more. It's important to avoid skimping on horsepower for runners' treadmills, so you should look for a treadmill with 3.0 CHP or more and preferably a motor with a lifetime warranty. The motors in low-end treadmills tend to have cheap wiring, and aren't likely to last as long as their warranties suggest. The upper end of motor power for home treadmills is about 4.0 CHP, and some high-end treadmills designed for marathon training can reach 5.0 CHP or higher. That said, this sort of horsepower can't be expected on cheap treadmills. Another area to avoid skimping on is the track size. When it comes to track size, runners should keep a few things in mind.
Track Length: Treadmills meant for runners have longer tracks than those meant for walkers. Although you may get away with a 55″ long track (the standard length for walking), many runners need a 58″ or 60″ track to run without feeling restricted or closed in.
Track Width: This is also something to consider. Both cheap and luxury treadmills generally have 20″ wide tracks. It's rare to find a cheap treadmill for running that has the extra track width available at higher price points.
Find The Best Match Within Your Budget
We've reviewed hundreds of treadmills at TreadmillReviews.net. Some of our favorite cheap treadmills are featured above, but there are many more on the market to choose from. If this is still above your price range, we have put together a list of the best treadmills under $500: just expect to make many sacrifices for that price.